Site Blocking
Overview
Site blocking on the Campaign Details Sites Report lets you block your campaign from appearing on sites on the Outbrain and RevContent networks.
RevContent brands and topics display under the Sites Report in place of sites. RevContent campaigns do not block specific sites but can block brands or topics, depending on which type of targeting your campaign is using.
Click here
to learn more about Blocking both Topics/Brands with RevContent.
To block sites on Outbrain and RevContent campaigns, click the arrow to open the sites open. Then click Block.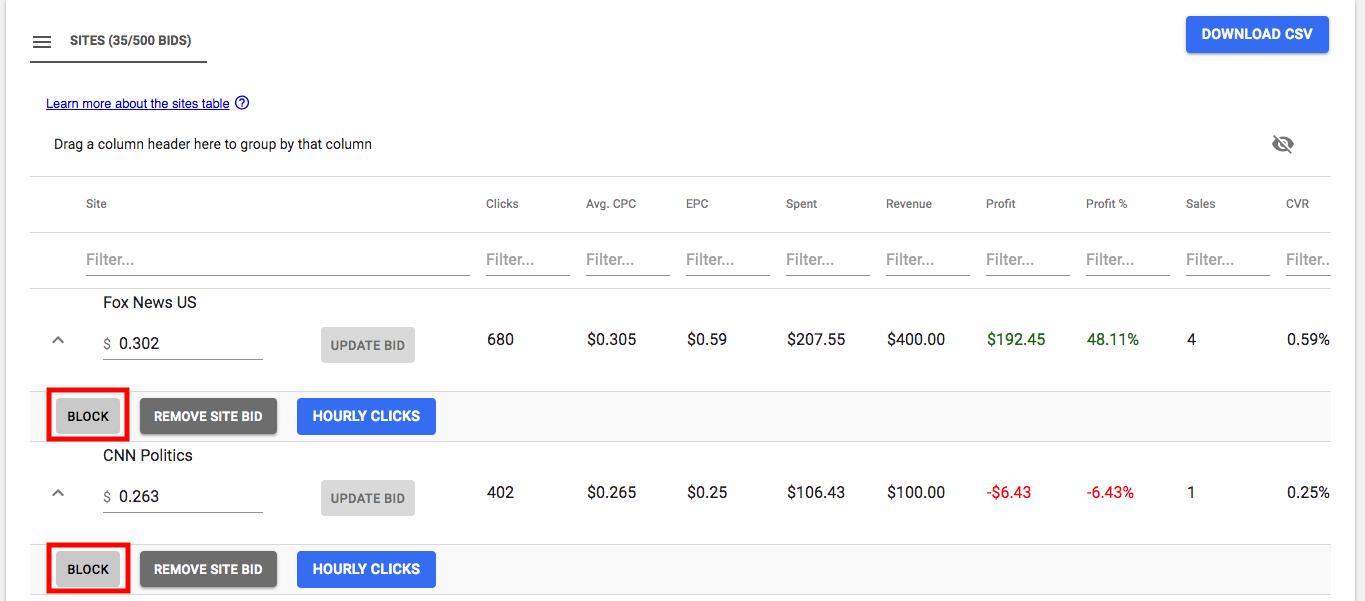 Outbrain allows for a maximum of 100 sites that can be blocked per campaign.
Taboola Blacklisting
While Outbrain and RevContent are the only networks that currently block in Maximus, you can set up blacklists or whitelists with Taboola during campaign creation. Click here to read the Add Campaign documentation. The Site Rule Set field lets you add a comment which gets submitted to your Taboola representative, and they will apply the whitelist or blacklist to your campaign. Talk to your representative to make sure they know which lists you want to use and write the Site Rule Set comment appropriately.
Common Uses
Site Blocking can be used to control where your campaigns are being placed, and allow you to effectively optimize by targeting who and where you run your ads. Blocking sites which have a demographic that responds poorly to the ads or offers you are running saves money and also time in trying to optimize these sites when you could be focusing on the ones that end up performing the best.
Use Site Blocking on sites with bad CVR (Conversion Rate) or that have no conversions at all if you've seen enough data to evaluate that the campaign won't work there.
You can always remove Site Blocks if you think that you're ready to try a site again, or have added new ads that may get better traction on those sites.
Outbrain also allows you to do Site Blocking through Fire & Forget™. Click here to read more about Site Block EPC.
RevContent allows you to do Widget Blocking through Fire & Forget™. Click here to read more about Widget Block EPC.
​
---
---